Forest Therapy Guide Training
INFTA sets the standards for and organizes the training of INFTA-Certified Forest Therapy Guides internationally. This is done in close collaboration with established research institutes and organizations as part of a dynamic international network. Training of INFTA-Certified Forest Therapy Guides is based on the International Core Curriculum for Forest Therapy (ICCFT) (validated by over 120 international experts from 20 countries).
Forest Therapy Guide training aims to provide learners with the knowledge, competencies and confidence to facilitate high-quality nature and forest therapy sessions. This training offers the opportunity to develop professional and personal leadership, social and interpersonal capacity, and the skills and technical knowledge to contribute to the growing field of research in the area of Forest Therapy as a Public health practice.
During the six-months practicum, learners will progress through the mentored practicum and develop skills and competencies to:
organise and lead Forest Therapy sessions in forests and other natural environments

understand group dynamics and people management

comprehend the evidence-based research related to nature and Forest Therapy

recognise and deal with a range of situations, time and risk management

establish, communicate and consistently follow a personal values framework

empower participants to become nature-connected and environmentally conscious.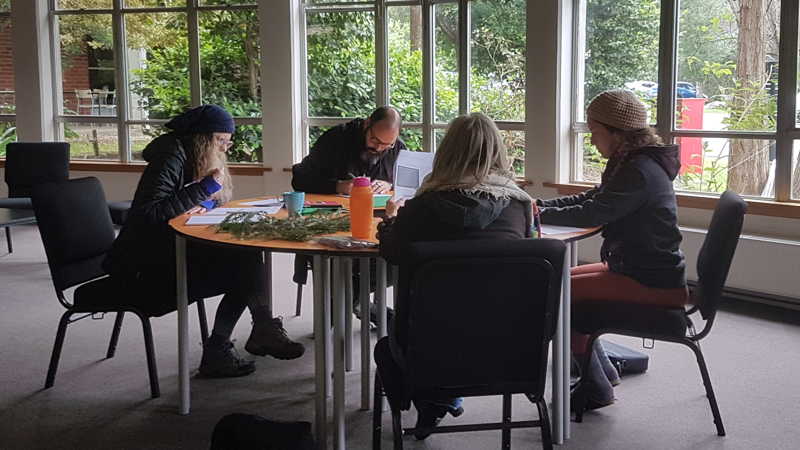 The training is delivered through related theoretical and practical components. The robust link of these aspects of the training allows learners to understand the research and evidence base of the practice, on which to develop the required practical skills and competencies. A time ratio of around two-thirds practical (approx. 180 lessons) to one-third theoretical (approx. 90 lessons) instruction will be maintained. As learners progress through the course, they will build a portfolio of resources and record evidence of their work, experiences and observations (incl. video-taped activities of guided Public Forest Therapy walks).
Learners must allow adequate time to read and understand the contents, undertake investigative research and allow adequate time to plan, manage and lead four guided Public Forest Therapy sessions as part of their practicum. The average time commitment to progress through the practicum is 10-15 hours per week. Applicants undertaking this training should be aware of the complexity of the content and be able to self-manage the assignment load to meet deadlines.
The training in Forest Therapy is conducted internationally by INFTA-accredited, supervised and monitored institutes and lecturers. During the practical training components, INFTA offers professional internship placements with its partner organisations.
INFTA offers several training options. Please select the training cohort you are interested in:
Australia • 24-28 June 2020 (applications closed; training in progress)
Germany/EU • 8-12 June 2020 (applications closed due to COVID-19 impediments)
Germany/EU • 10-14 August 2020 (applications closed due to COVID-19 impediments)
Australia • 16-20 September 2020 (applications closed due to COVID-19 impediments)
Australia • 14-18 April 2021 (open for applications October 2020)
Japan • 10-14 May 2021 (open for applications November 2020)
Germany/EU • 9-13 June 2021 (open for applications January 2021)
Australia • 15-19 September 2021 (open for applications January 2021)
Australia • 3-7 November 2021 (open for applications January 2021)
You will find more information about the INFTA Forest Therapy Introduction and INFTA-Certified Forest Therapy Guide Training following the above links.